"Epistemology is the study of knowledge: what we know, how we know it, how we know we know it, and how to keep track of it without driving ourselves crazy."
ince there is a lot of moonshine, much of it toxic, being produced by the Tr-mp regime and its supporters in Congress and on cable news, let's distill a simple truth from the cloudburst of orange urine—the lies, outrages, and absurdities—that has soaked our already piss-saturated political landscape since January 20: Republican leaders are pretending Donald Tr-mp isn't mentally ill because they want to cut taxes for the wealthy, weaken or eliminate programs for the poor and working-class, and make it harder for people who oppose that reactionary agenda to vote against it.
Sadly, after a sober distillation of the uncomfortable facts, that simple truth is what is left, the essence of what is going on. After Tr-mp's Electoral College-only victory in November, Speaker Paul Ryan falsely claimed Tr-mp "just earned a mandate." But Ryan's imaginary mandate for Tr–mp is very real for Paul Ryan. He sees the opportunity to get done what
only seemed like a Randian dream before. And that's why there is a very strange tolerance for very strange behavior, like when Tr-mp scandalously equated a murderous Vladimir Putin with past American leadership, or when he, on Saturday, discussed with dinner guests—in public at Mar-a-Lago—the launch of a North Korean missile. If any Democrat had said or done anything like that, Washington would still be on fire with conservative rage.
Republicans, as I have said many times, are the only ones who can put a stop to the madness we have seen and are seeing—including Tr-mp's solicitation and toleration of Russian interference in our election and what may be, as the Flynn controversy demonstrates, a plan for compensation to the Russians for helping elect Tr-mp. But GOP leaders have their partisan and ideological priorities, which clearly don't include protecting the integrity of any of the nation's institutions from a sick, shady man who most of them know is a sick, shady man with a lot of not-so-sick but oh-so-shady men and women around him.
Since I have written about the issue for months now, I was glad that on Sunday, three different times, the issue of Tr-mp's mental health came up, in a serious way, on television. On MSNBC, Congressman Ted Lieu, of California, brought up Dr. John Gartner, a psychotherapist formerly affiliated with Johns Hopkins University Medical School. Dr. Gartner, who specializes in certain personality disorders, said recently:
"Donald Tr-mp is dangerously mentally ill and temperamentally incapable of being president," says Gartner, author of "In Search of Bill Clinton: A Psychological Biography." Tr-mp, Gartner says, has "malignant narcissism," which is different from narcissistic personality disorder and which is incurable.
Congressman Lieu, after quoting Dr. Gartner, properly asked, "What do I do with that as a member of Congress? Do I ignore that? Or do I raise the issue?" Well, Lieu isn't ignoring the issue. He is filing a bill that would require a shrink in the White's House. About Tr-mp Lieu said,
His disconnection from the truth is incredibly disturbing. When you add on top of that his stifling of dissent, his attacks on the free press and his attacks on the legitimacy of judiciary, that then takes us down the road toward authoritarianism. That's why I've concluded he is a danger to the republic.
On another Sunday program, NBC's Meet The Press, Senator Bernie Sanders chimed in about Tr-mp's behavior, saying to Chuck Todd, "right now we are in a pivotal moment in American history. We have a president [sic] who is delusional in many respects, a pathological liar." Todd asked Sanders, "Can you work with a pathological liar?" Sanders said,
Well, it makes life very difficult, not just for me. And I don't mean, you know, I know it sounds, it is very harsh. But I think that's the truth. When somebody goes before you and the American people, say, "Three to five million people voted illegally in the last election," nobody believes that. There is not the scintilla of evidence. What would you call that remark? It's a lie. It's a delusion.
Just one of many lies. One of many delusions.
On CNN's Sunday program, Jake Tapper asked Senator Al Franken about his prior remarks on Bill Maher's show during which Franken claimed that in private some Republican senators have "great concern about the president's [sic] temperament." Here's how that went:
TAPPER: So, I know that was comedy, but is it true that Republican colleagues of your express concern about President Tr-mp's mental health?

FRANKEN: A few.

TAPPER: Really?

FRANKEN: Yes. It's not the majority of them. It's a few.

TAPPER: In what way?

FRANKEN: In the way that we all have this suspicion that—you know, that he's not—he lies a lot. He says thing that aren't true. That's the same as lying, I guess. He—you know, three million to five million people voted illegally. There was a new one about people going in from Massachusetts to New Hampshire.

TAPPER: Thousands and thousands in a bus, yes.

FRANKEN: Yes. And, you know, that is not the norm for a president of the United States, or, actually, for a human being.
Senator Franken, my early choice for president in 2020, also said to Tapper:
I think that Tr-mp and his group are trying to make Americans more afraid. I think that's part of how they got elected: Just make us more afraid.
Of course that is true, absolutely true. That's why Tr-mp described, and still describes, America so darkly. But what is also true, and perhaps more important in the long run, is that Tr-mp makes Republicans in Congress more afraid, afraid they are just a Tr-mp tweet away from being primaried in two years. And that fear of losing their jobs, at least for those who see how mentally disturbed Tr-mp is, is enough to keep their thoughts about Tr-mp's instability to themselves or limit their comments to whispers behind closed doors.
I have quoted three Democrats in Congress on the subject of Tr-mp's mental health and have criticized Republicans for staying quiet about what is so obvious. Now, to finish up, I want to turn to a philosopher I respect very much. Daniel Dennett told The Guardian:
The real danger that's facing us is we've lost respect for truth and facts. People have discovered that it's much easier to destroy reputations for credibility than it is to maintain them. It doesn't matter how good your facts are, somebody else can spread the rumour that you're fake news. We're entering a period of epistemological murk and uncertainty that we've not experienced since the Middle Ages.
I sup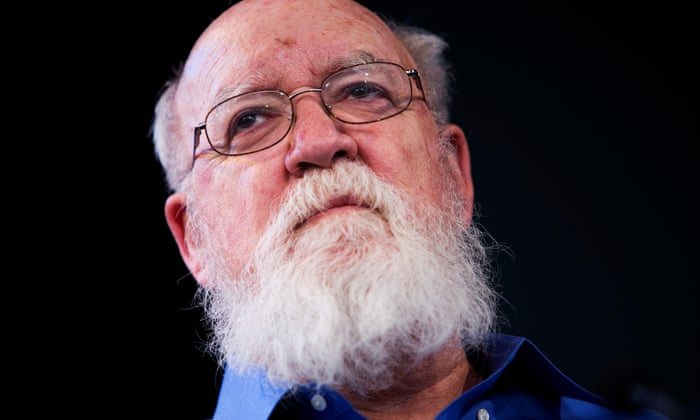 pose only a philosopher thinks in terms of "epistemological murks," but that is exactly where we are. In the Middle Ages, such murks were survivable. Here in the Nuclear Age, they may not be. Truth and sanity must prevail, but there is no guarantee it will. As Dennett said, reputations for credibility have to be maintained. Right now they are under siege nearly everywhere we look. But Dennett has hope:
I'm an eternal optimist. Every Republican senator has an opportunity to grow a spine and stand up for truth and justice and the rule of law. My other hope is that if Trump has to choose between being president and being a billionaire, I think he may just resign.
I'll leave it to the reader to calculate the odds of either one of those two hopes becoming reality. But I'd bet a tax cut for the rich that the odds are long.