Anson Burlingame responded to my recent piece on Tr-mp's missile attack on an airbase in Syria. You can read his remarks here. My reply follows:
Anson,
1. You accused me of saying Tr-mp "was dead wrong to launch the attack." Well, you're dead wrong about that. You can read my piece a thousand times and you won't find me saying the attack was "wrong," dead or otherwise. For my reasoning on this issue, I refer you to a piece I wrote in September of 2013, when Obama was deciding what to do about even worse chemical attacks in Syria. I will note that your comments attached to that piece indicate a very different response to Obama's potential attack on Syria for "WMDs" than your response to Tr-mp's real attack. I suggest you go back and explain your reluctance to support a strike then and your embrace of the attack now. Good luck.
2. My piece on the Tr-mp attack was partly about the reaction to it, which was nothing short of ridiculous. For God's sake, Fareed Zacharia, a man for whom I had the utmost respect, said (I think he said this after I wrote my piece) that "Donald Tr-mp became president" after the attack. I promise you that Zacharia will never live that comment down. He has lost a lot of credibility. I will never hear him or read him the same way again. There was a way to talk about the attack that didn't involve elevating Tr-mp to some kind of strategic genius (Bob Woodward) or morally legitimizing him as "president." I never heard so much Tr-mp-pumping bullshit this side of Fox and Friends, Tr-mp's alleged source for his newfound "outrage" over the chemical attacks.
3. I don't give a damn whether the Washington Post's editorial board, or any editorial board for that matter, approved or disapproved of the attack. They don't have the slightest idea whether the attack was effective or whether it will make things much, much worse as we move forward. Neither do you. Neither do I. Time will tell. But we already know Assad is, just to kick sand in Tr-mp's orange face, using the attacked airbase to launch more attacks, even if they are conventional attacks. So, we have more reason to believe nothing has changed than we do that the tactical and strategic calculations of Assad and the Russians and, for God's sake, the North Koreans and the Chinese and everyone else in the goddamned world, have changed because of Tr-mp's "decisive" action.
4. Another reason I had for writing that piece was to question the motivation of Tr-mp. Everyone just assumes what he said about his motivation was true. I remind you: this man is a pathological liar. But all of a sudden we're supposed to believe him when he said he was moved by pictures of poisoned children. I call bullshit on that. We have much more reason to believe he was moved by his falling poll numbers. Everyone knows he has a weird fascination with polls that are about him, and everyone knows the polls about him will improve now. My logical conclusion, based on what I have seen and heard since June of 2015, is that Tr-mp took action, very low-risk action, primarily because it would be beneficial to him. That's all he has shown us he gives a damn about. After all, children's bodies have been washing up on the shores of the Mediterranean for years now and Tr-mp never appeared to give a shit. Over the months of the campaign, thousands and thousands of kids were barrel-bombed and Tr-mp's response was to say to hell with them and their refugee-seeking selves. And nothing has changed at this point.
5. You said I should forget Tr-mp's "mental health." Huh? You want me to forget that a mentally challenged man, narcissistic to his core, pathologically incapable of telling the truth about anything, is ordering missile strikes and contemplating making war here and there and, before he's done, everywhere? Or maybe he's not. He may be watching Baywatch reruns this morning for all we know. We don't know anything for sure about how his mind works except that it doesn't work right. He has shown us enough to make that determination, and ten-thousand Tomahawks can't erase that judgment, at least from my memory banks. So, no, I won't forget about his mental health.
6. As for his picks for NSA and Defense, I don't have a problem, so far, with them. I believed at the time that we were lucky to have them instead of, say, Sean Hannity running our national security apparatus. Right now, though, they are still trying to wrestle control from Tr-mp's cronies and family, I would guess. I hope they are successful. Our survival quite literally depends on their success in controlling a deranged president who pays more attention to Steve Doocy and Brian Kilmeade and the Fox and Friends blonde-of-the-day than any of his intelligence folks.
7. Tillerson was obviously unqualified for the job of SOS. But at least he is making an attempt, if we are to believe press accounts, to learn what is going on in the world, in terms of things not having to do with Exxon's bottom line. Someday he may even be able to get on the same page as our U.N. ambassador, in terms of expressing a coherent view of Tr-mp's incoherent foreign policy in general, and in terms of his policy toward Syria in particular.
8. I have said for sometime now that Congress should "get involved in authorizing military action." Period. The president does not have unlimited powers to wage war, or at least he shouldn't. But effectively these days he does have such unlimited power. That's the fault of people in both parties by the way. It sort of depends on which party has the White's House (although there are a few legislators in both parties who have held consistent positions opposing unrestrained war-making executive powers). Maybe you remember when Obama and NATO took action in Libya, to prevent a slaughter, not in response to one that had already happened, that the Republican Speaker of the House opposed his action on constitutional grounds. Today, though, most Republicans are just fine, some orgasmically fine, with what Tr-mp did. My how times change when your guy is in the White's House.
9. I also wrote the piece on Tr-mp's attack to criticize those who have incessantly attacked Obama for not attacking Syria in 2013. If Obama had done what Tr-mp did this time, which as I said was a low-risk and likely low-reward move, he would have been called weak and indecisive by the John McCains and Lindsey Grahams of the world. But because Tr-mp did it, he was strong and decisive. In the words of Graham, he reached a Ronald Reagan level of strong and decisive. I almost swallowed my own head when I heard that reference.
10. Finally, you wrote,
Are you capable of writing such a strategic blog offering your views on how to deal with the current danger in the world around at least in deciding when to use military power against the many threats we face around the world.
In the link to my 2013 post, you will find some of my thoughts on that, mostly related to the Syrian problem, which I will focus on now. I want to say the following, on the record, about what to do in Syria: Do not use American troops, on the ground or otherwise, with the expressed purpose to remove Assad from power. We will own the Syrian problem in a big way if we do that. And there is no forseeable solution to the problem we will then own. In fact, I don't see any solution at all to the multiple problems there, which is why Obama did everything he could to keep Americans from getting killed, even though there was incredible pressure on him to "do something." He could have impressed us with his commander-in-chief chops by attacking an airbase or two without congressional approval. But, contrary to Fareed Zacharia, Obama genuinely acted presidential by restraining his emotions when confronted with the appalling images created by an uncivilized asshole named Assad, aided by Tr-mp's Russian hero Vladimir Putin. Whatever you thought about Obama's Syrian policy, his loyalty was to what he perceived were the long-term interests of the country he led, not to his own personal emotional reaction to human suffering, or, God forbid, to his poll numbers.
We can take military and non-military steps to protect refugees, many of which I would support. But even things like safe zones or no-fly zones involve a big danger of getting us more deeply involved in the many-faceted civil war going on there. But in my opinion, we can and should help people fleeing both ISIS and fanatical Islamists of other stripes, as well as people fleeing the monstrous Assad, being careful not to escalate our involvement beyond that (I continue to support our efforts to destroy ISIS, a separate matter).
Perhaps the first thing we should do is not, as Tr-mp and many Republicans have done, publicly brand the Syrian refugees as untouchables. We should welcome as many of them as possible to come to America. If Tr-mp wants to go some distance in proving he's not just a calculating, grifting narcissist bent on raising his poll numbers by the use of low-risk military action, he should publicly renounce his past comments about Syrian refugees, withdraw his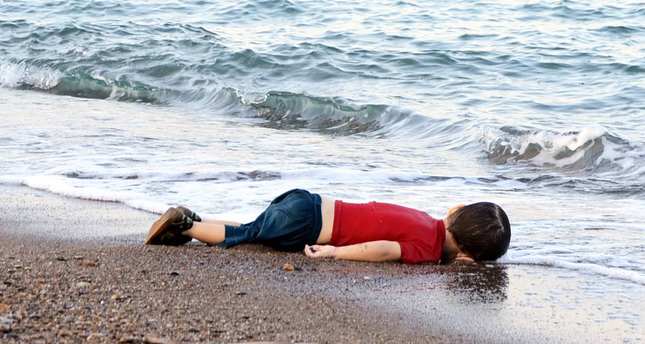 executive orders barring them from the country, and instead offer up the United States of America as a friend to those fleeing barbarism, fanaticism, and desperate despotism.
But, of course, that he will not do. It's much easier for him to shoot fireworks than admit he has been wrong for years about Syria and Syrian refugees.
Duane