Now we know why the Intelligence Community was so afraid of Agent Orange. And now we know why there have been so many leaks. These dedicated patriots, many of them conservatives by nature, are trying to save the country.
I've heard a lot of talk since yesterday about how much chaos surrounds the Tr-mp administration. Oh, if it were only that simple. Chaos can be fixed. Order can be restored. But there is nothing that can mend the mind of the man whom a minority of misguided Americans put in charge of the country. He is unfixable. There are no repairs available for what is wrong with Tr-mp. What is wrong with him was sold as a feature of his programming, not a bug.
I said last week that Tr-mp corrupts everything he touches. Up until yesterday, everyone who defended Tr-mp said Lt. General H.R. McMaster, the National Security Adviser, was one man Tr-mp could not corrupt. He would act as a check against the excesses and unstable nature of a seriously flawed chief executive. It didn't turn out that way.
McMaster came out yesterday, after it was reported by the Washington Post that Tr-mp gave away top secrets to his Russian friends, and essentially covered for Agent Orange by shooting down a straw man, by denying something the Post article had not alleged. But the point of McMaster's quickly arranged appearance was to get this on the record: "I was in the room," McMaster said, "It didnt' happen." Well, "it" did happen. Just this morning, Tr-mp admitted as much in a tweet that he has "the absolute right" to share with the R
ussians whatever he wants. Sorry, General McMaster. Tr-mp corrupts everything and everyone. You're just the latest. And, no, I don't know where you go to get back your reputation. I guess you should have known better to start with.
The meeting in which Tr-mp gave away this Top Secret information to the Russians was, as Tr-mp tweeted this morning, "an openly scheduled W.H. meeting." Openly scheduled, yes. But the meeting was supposed to be with Sergei Lavrov, the Russian foreign minister. It turned out Putin had asked Tr-mp to also meet with the controversial Russian ambassador to the U.S., Sergey Kislyak, the man at the center of the many Russian collusion investigations. And of course Tr-mp met with Kislyak, a fact we would not have known if it were not for a Russian-controlled news agency releasing photographs of the jovial meeting. American journalists were not allowed in. Go figure.
Essentially, as we have all learned, whoever happens to hold the office of the President of the United States is above the law. He can do anything he wants, including risking the lives of intelligence operatives by blabbing secrets to our enemies. The Founders' assumed, as they put together the Constitution, that the impeachment option, a political remedy not a legal one, would be enough to hold the president, particularly one without integrity, accountable. But the Founders, as brilliant as some of them were, did not and could not imagine the Republican Party as it is now constituted. It is a party whose leadership knows Tr-mp is dangerous but also knows it needs his disturbed cult followers in order to hold on to power and pass an agenda that a majority of Americans do not want. Tr-mp represents their only chance to turn that agenda—an agenda of, by, and for the wealthy—into the law of the land. And they appear more than willing to risk the integrity of the country to get it done.
We have seen Tr-mp's obscene coddling of despotic thugs, Russian and otherwise. We have heard him beg the Russians to help him get elected. We have heard him threaten to jail his political opponent. We have seen evidence of his campaign's collusion with the Russian effort to destroy Hillary Clinton. We have seen Tr-mp flirt with obstruction of justice by firing the FBI director, the man who was investigating possible criminal conduct by the Tr-mp campaign, and then threatening him with "tapes" that may or may not exist. Through all that and more we have heard pundits talk about how we are on the "verge" of a constitutional crisis. "We're not there yet," some of these pundits say. "But we're close."
Hooey.
We are in a constitutional crisis. And we have been since January 20 at 12:01pm. Tr-mp may be above the law when it comes to all the things he has done, including this latest dangerous loose talk to the Russians. But he is not above the political constraints found in the Constitution, if Republicans, who control the Congress, will respect that old, deteriorating document. There is little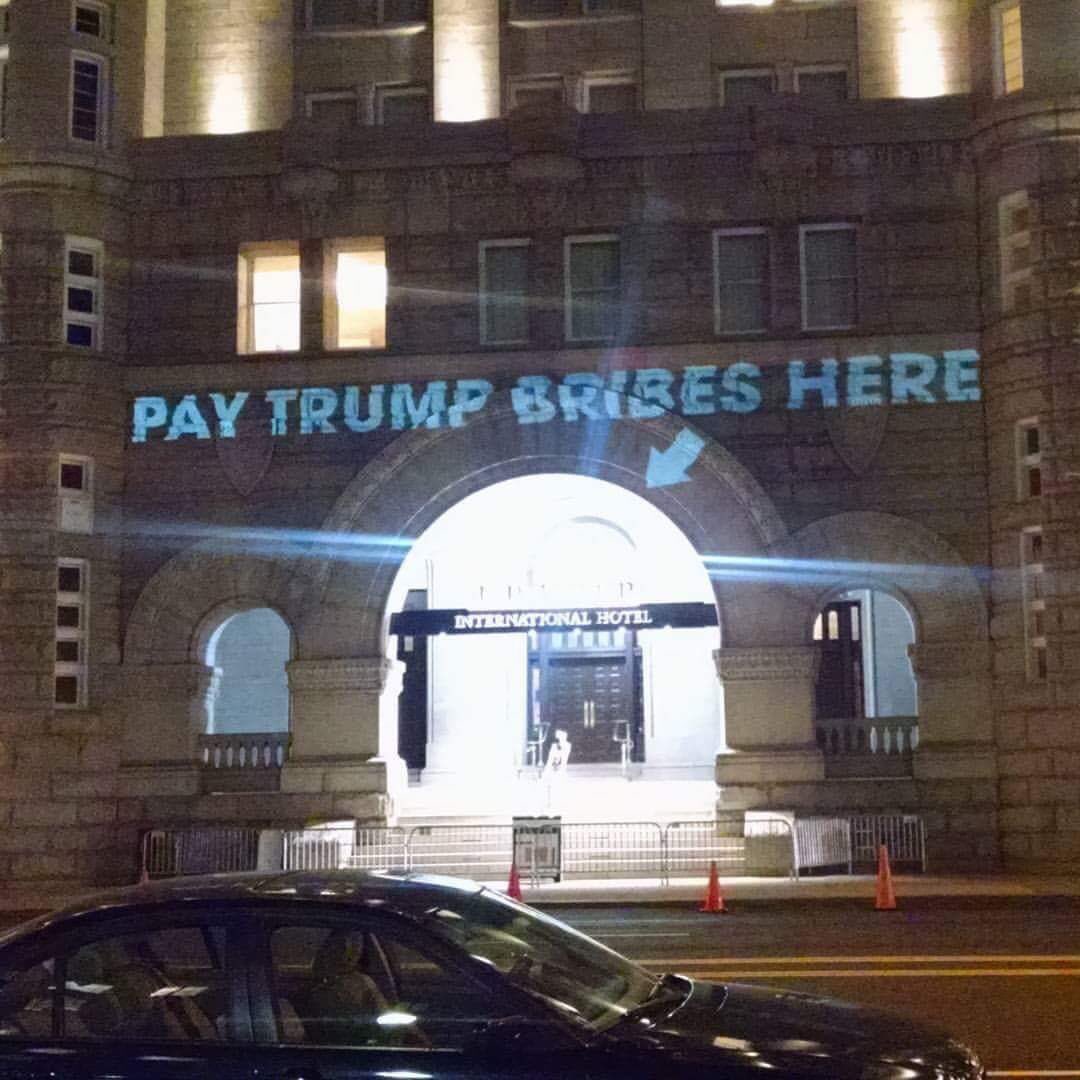 hope they will use the remedy of the 25th Amendment—the "our president is nuts" remedy—because that would be too much to admit: Republican leadership aided and abetted a sick man. But there is another, simpler way.
Since he took office—forgetting everything else—Tr-mp has violated the Emoluments Clause. There is no question about that. With all the chaos and confusion, it is easy to forget that simple fact. This vulgarian is openly crapping on the Constitution by making money off foreign governments. And now it is time to remember that simple fact. Now it is time for all of us to put pressure on the only entity that can stop Tr-mp and save the integrity of our democracy: the Republican Party. We have to force Republicans to impeach and then convict this man for violating the Emoluments Clause, even if all the other terrible things he has done are perfectly legal.
I know it is a long shot at this point. I know there isn't much hope in that possibility. But it is all we have.
Again, here you go:
A directory listing all House phone numbers: http://www.house.gov/representatives/
A directory listing all Senate phone numbers:  https://www.senate.gov/general/contact_information/senators_cfm.cfm