An unmanly man from Idaho bragged about killing, among other "big game" creatures, "a whole family of baboons." If you can stomach it, and even if you can't, here's the photo: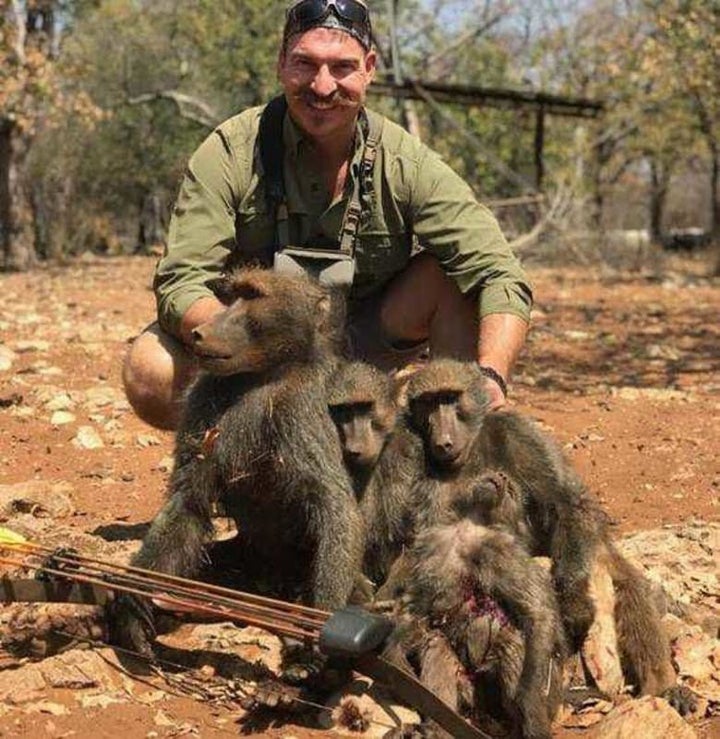 The creature in this picture who is posing as a human being has a name: Blake Fischer, a bleeping Fish and Game Commissioner appointed by the Republican governor. The reason I'm posting this grisly picture is because, in the age of Tr-mp, we have to come to terms, again and again, with the equally grisly fact that there are a lot of ugly, ugly Americans out there.
Think about what it takes to do what Fischer did on his guided hunting trip in Africa, with respect to these baboons. He had to want to kill them for the sake of killing them—the entire family. And then, if that weren't bad enough, he couldn't keep his act of shameful slaughter to himself. He had to share it with his "friends and colleagues" via an unsolicited email. What goes through the mind of such a person?
Baboons, with whom we share more than 90% of our DNA, were considered somewhat sacred by the ancient Egyptians, sometimes depicting them in their art as dancers and musicians. As Ancient Origins points out, the baboons were mostly kept in temples and cared for by the priests. But some wealthy Egyptians kept them as pets, and there is evidence in 5000-year-old cemeteries that the baboons were repeatedly beaten into submission. In our time, Blake Fischer assigned them the dishonor of being his props in a killing photo he couldn't wait to share.
In so many important ways we have improved as a species since the time of the ancient Egyptians. But then there is Blake Fischer.