"These images are eerily reminiscent of the internment camps for U.S. citizens and noncitizens of Japanese descent during World War II, now considered to have been one of the most shameful episodes in U.S. history."
—Laura Bush
he pictures and sounds of weeping migrant children that are dominating our televisions at the moment fill most of us with a combination of sadness and shame, as well as a mix of compassion and outrage. We are shocked by the unnecessary cruelty involved. We are horrified that our government is not only engaged in such systematic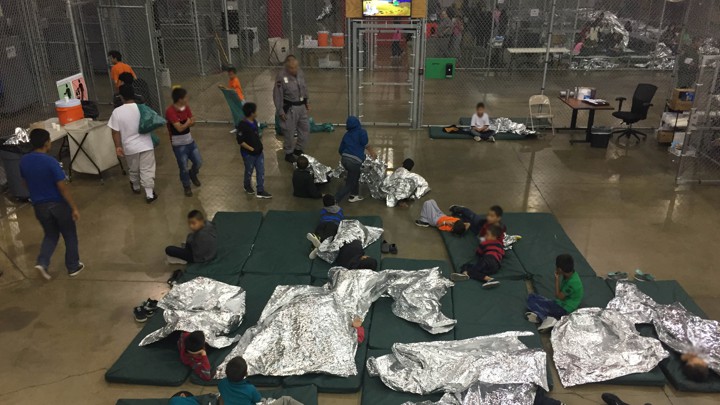 cruelty, but is actively denying it or lying about it or defending it—or doing all at the same time. In short, we are appalled.
But who deserves our wrath for such inhumane policies? The answer can be found in history, or more conveniently, in a short review of three history books, one book published recently (Broken Lives: How Ordinary Germans Experienced the Twentieth Century
 by Konrad H. Jarausch), and one more than 50 years ago and recently republished (They Thought They Were Free: The Germans, 1933–45
 by Milton Mayer), and one written in 1939 (Defying Hitler: A Memoir by Sebastian Haffner). The review ("It Can Happen Here") was written by Cass Sunstein for The New York Review of Books.
Sunstein, you may remember, is a renowned legal scholar who once worked for President Obama and was the bête noire of people like Glenn Beck and Wayne LaPierre and Alex Jones. Sunstein co-authored a book, Nudge: Improving Decisions about Health, Wealth, and Happiness, that essentially argued that people, even smart people, frequently make bad choices and can be deliberately "nudged" into making better ones (think: government warnings about smoking). This idea, of course, drove people like Glenn Beck, and even Glenn Greenwald, nuts, especially because people like Obama found it interesting.
The truth is, though, we are all nudged by something or someone, good information or bad, good people or bad, reliable heuristics or faulty ones, irrational thoughts disguised as rational deductions, or confirmation bias in its many forms. The point is, as Tr-mp's election proved, people can make horribly bad decisions and it is important to try to figure out why they do and, if possible, discover ways to help them make better ones. As Sunstein argued in Nudge, decisions are not made in neutral contexts. Framing is essential. Speaking of which:
In his three-book review Sunstein begins with a brief description of our changing world: "a resurgent Russia" under Vladimir Putin, who "has entrenched authoritarian rule"; a China that "may have surpassed the United States" in global influence, even as it is led by another authoritarian-for-life, Xi Jinping; serious talk of a "democratic recession," what with the chilling "turns toward authoritarianism in Turkey, Poland, Hungary, and the Philippines"; and, of course, there is Tr-mp. Thus, the purpose of the review:
In such a time, we might be tempted to try to learn something from earlier turns toward authoritarianism, particularly the triumphant rise of the Nazis in Germany in the 1930s. The problem is that Nazism was so horrifying and so barbaric that for many people in nations where authoritarianism is now achieving a foothold, it is hard to see parallels between Hitler's regime and their own governments. Many accounts of the Nazi period depict a barely imaginable series of events, a nation gone mad. That makes it easy to take comfort in the thought that it can't happen again.
We must confess that Sunstein is right. Anyone familiar with what Hitler and the Nazis did will find it difficult to make realistic connections between "a nation gone mad" and our own. Those of us who have pointed out some of the parallels are often met with "it can't happen here" and other such hopeful notions. And to be sure, Sunstein, despite recognizing all of the ominous signs that accompany Tr-mp and Tr-mpism ("the United States has not seen anything like it before"), is quite cautious about predicting a fascistic future for Americans:
With our system of checks and balances, full-blown authoritarianism is unlikely to happen here, but it would be foolish to ignore the risks that Trump and his administration pose to established norms and institutions, which help preserve both order and liberty. Those risks will grow if opposition to violations of long-standing norms is limited to Democrats, and if Republicans laugh, applaud, agree with, or make excuses for Trump—if they howl with the wolf.
This is where I want to get back to my question of who deserves our wrath for the cruel and inhumane policies we are witnessing, policies that Tr-mp defended with disturbing enthusiasm today in front of disturbed enthusiasts (in this case, the National Federation of Independent Businesses). Sunstein's review was of history books that chronicled the rise of Hitler not by focusing on "well-known leaders, significant events, state propaganda, murders, and war," but by offering accounts of "ordinary life under Nazism." You can and should read such accounts and make what you will out of them. But it is incontrovertible that there would have been no Hitler and no Holocaust without the assent, too much of it enthusiastic, of ordinary Germans. Likewise, there would be no Tr-mp and no migrant children in chain-link cages without the assent, too much of it enthusiastic, of ordinary Americans, tens of millions of them.
If you look around you, it isn't Tr-mp or Mitch McConnell or Paul Ryan or Stephen Miller or Sean Hannity or Kirstjen Nielsen or Rudy Giuliani or Jeff Sessions—abominable actors without a doubt—who are primarily to blame for what we see. It is Matt next door. It is Phyllis down the street. It is Joe at work. It is Tim, your cousin. It is Tom, your dad. It is Pastor Mack. It is your old high school friends who have inexplicably become unrecognizably Tr-mpish. And it is all those you know who, in our peculiar democracy, don't bother to vote one way or another. We have Tr-mp and McConnell and imprisoned migrant children because of people you know, people you work with and go to church with and wave at as they drive through your neighborhood. When well-intentioned folks say that the way we are treating frightened kids and their asylum-seeking parents is "not who we are," that excludes millions upon millions of people who insist, "That's exactly who we are." 
But there is hope, of course. Sunstein writes about his three authors:
In their different ways, Mayer, Haffner, and Jarausch show how habituation, confusion, distraction, self-interest, fear, rationalization, and a sense of personal powerlessness make terrible things possible. They call attention to the importance of individual actions of conscience both small and large, by people who never make it into the history books. Nearly two centuries ago, James Madison warned: "Is there no virtue among us? If there be not, we are in a wretched situation. No theoretical checks—no form of government can render us secure." Haffner offered something like a corollary, which is that the ultimate safeguard against aspiring authoritarians, and wolves of all kinds, lies in individual conscience: in "decisions taken individually and almost unconsciously by the population at large."
We have arrived at a moment in our own history when individual consciences will make decisions, consciously or unconsciously, that may or may not have collective consequences comparable to Hitler's rise to power. But from now until the November elections, through acts small and large by people who aren't destined for either praise or condemnation in any to-be-written history book, we can nudge ourselves—and others—in one direction or another. And I think it is fair to say, after what we have seen and are seeing now, that when we wake up on November 7th of this year, we will know who we are, whoever that is.