Conservatives, mostly white Christians, have told us repeatedly that you can't fight terrorism properly unless you are prepared to call it what it is. Tr-mp proudly gets to say these days, "radical Islamic terrorism," as if invoking an ancient biblical curse on Muslim extremists.
Well, about a week ago Sara Rodriguez, a 16-year-old Florida student from a school near Marjory Stoneman Douglas High School in Parkland, named names: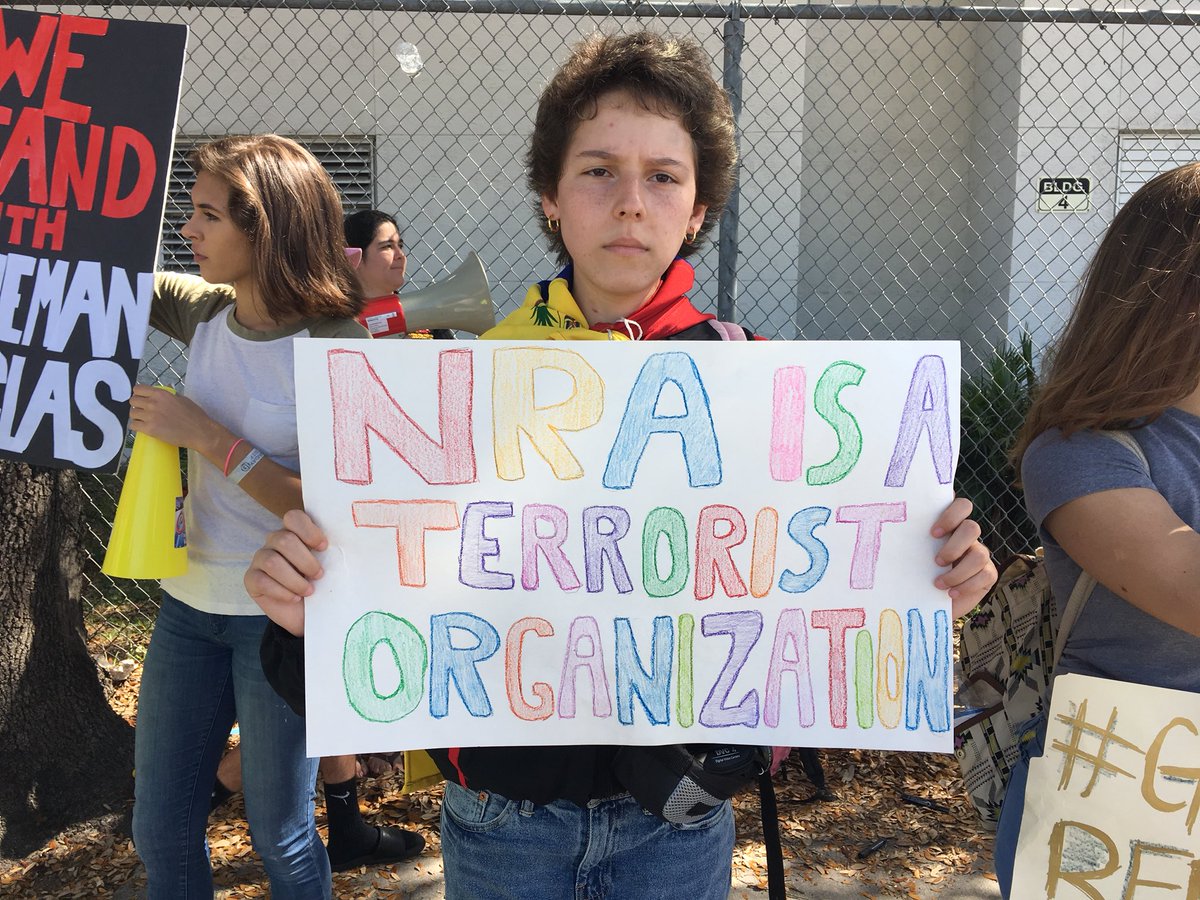 Cameron Kasky, a 17-year-old who survived the massacre last week at his school, is a founder of the #NEVERAGAIN movement that is inspiring those of us who were losing hope for a better American future. Kasky said:
This is simply a matter of are you with us or are you against us? Are you for taking steps to save us or are you for taking NRA blood money? We are not letting the United States be run by that terrorist organization. My friends and I, my community and I have stared down the barrel of an AR-15 the way you have not. We have seen this weapon of war mow down people we know and love the way you have not. How dare you tell us we don't know what we're talking about? You have no idea what you are talking about.
Some of the "adults" tried to temper Kasky's remarks about the NRA, saying it is a mistake to label it a terrorist group. Hooey.
These teenagers have earned the right to call the NRA anything they want to. And, by the way, they are onto something. Kasky shut down his Facebook account yesterday, saying,
Temporarily got off Facebook because there's no character count so the death threats from the @NRA cultists are a bit more graphic than those on twitter.
And today we had NRA jihadist Wayne LaPierre say to CPAC, the annual gathering of family-values phonies, the following:
I call on every citizen who loves this country and treasures its freedom to stand and unflinchingly defend the Second Amendment, the one freedom that protects us all.
Taken along with his other inflammatory remarks in his speech (as well as provocative remarks by NRA propagandist Dana Loesch, who preceded him), I interpret that sentence—a "call"—as a terrorist threat. "Every citizen who loves this country" is a separatist statement. I interpret "stand" as "Stand Your Ground," a legal justification for using violence even when it isn't necessary. I interpret "unflinchingly" as using violence without fear.
Largely because of the NRA, but with help from other gun manufacturing lobbyists and the politicians they purchase, children in every American school have to wonder if their last recess was literally their last recess, or if their last math test was their last test of any kind, or if their last glance of parents or siblings or friends would flash through their minds as the sound of gunshots echoed down the halls. If living with that reality isn't a kind of terror, what is it?
If LaPierre, who clearly is afraid of what is happening before his eyes, was threatening a kind of civil war over the gun issue, he'll have to go through young citizens who love their country, who are standing their ground with words, or are unflinchingly using their justified outrage to do something that my generation has shamefully failed to do: stare down the NRA.
Cameron Kasky, appearing on the Rachel Maddow Show on Monday, said:
This is going to be the last time a school shooting is going to look like a terrorist attack. That's a promise.
Kasky and others in the students' movement, who are now fighting the NRA and its political prostitutes and promoters all across the country and in Washington, ultimately may not be able to keep that commitment. But there is a revitalizing hope in the mere fact that impassioned teenagers are engaged enough and bold enough to make such a promise to the country they love.
_____________________________________
UPDATE: I implore you to read this article on the specific damage AR-15 killing machines do to human bodies: