Elizabeth Warren and Nancy Pelosi, both of whom actually belong to the Democratic Party, said what shouldn't have needed to be said: DNC Chairman Tom Perez was wrong when he said the national party would not support any candidate who did not support reproductive rights. Here's part of what Perez said:
Every Democrat, like every American, should support a woman's right to make her own choices about her body and her health. That is not negotiable and should not change city by city or state by state.
He is right. Everyone should support reproductive rights for women and those rights should not change depending on where you happen to live. But he is wrong to ignore the reality of American politics. Pro-choice Democrats can't get elected in some places.
Both Warren and Pelosi are, in Warren's words, "strongly pro-choice." Pelosi said:
I have served many years in Congress with members who have not shared my very positive — my family would say aggressive — position on promoting a woman's right to choose.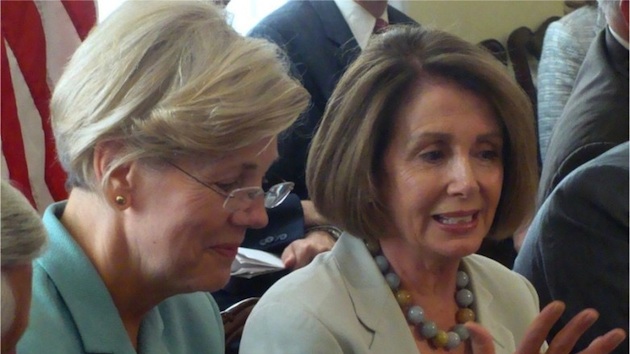 But both of these powerful Democrats recognize, as do most party leaders, that the issue of abortion is one that plays differently in Louisiana than it does in Massachusetts or California. We should remember that when Democrats held a majority in the House in 2009, it was because more than three dozen anti-choicers called themselves Democrats.
Leading Democrats have more work to do in convincing an overwhelming majority of people that women should be able to control their own bodies, should be able to make their own choices about having children and how many they should have. Until then, we have to live with the fact that not everyone, including not everyone in the Democratic Party, agrees with the party's platform on the issue. Warren put it well:
I recognize that not all of my colleagues agree with me. I'll do everything I can to persuade them, but they are my colleagues, and that's just how it is with the Democrats. But I got to say, it does not dampen my energy in this fight.
It's the same way with issues like single-payer health insurance. Many Democrats don't support the concept, either as a revolutionary change in our system or even as an incremental change, step by step until we get there. These Democrats need to be convinced otherwise, as far as
I'm concerned. But if they are willing to fight for other issues that we Democrats have in common, then they should be welcome in our party to fight with us on those issues.
The two major political parties in our system are, by the nature of the case, full of all kinds of people with all kinds of views on all kinds of issues. There is no one issue that defines what a Democrat is, even if there does come a point where you can disagree with so many core principles of the party that you should just call yourself something else and get out of the tent.